Nationwide Boiler selects only those manufacturers who provide the highest quality products and services possible. Our manufacturers have helped us maintain a superior reputation and we will continue to maintain positive relationships with them in order to form new partnerships and deliver the best available products and services to our customers.
Our Partnership with Babcock & Wilcox
As a proud partner and stocking distributor for Babcock & Wilcox (B&W), Nationwide Boiler has supplied innovative products manufactured by B&W to thousands of customers worldwide. With over 4,400 boiler units in operation across the world and a long tradition of supplying boiler systems dating back to 1867, no other company is more synonymous with steam generation than Babcock & Wilcox (an ISO 9001 and ASME certified company).
Nationwide Boiler stocks the versatile Babcock & Wilcox model FM 120-124 boiler, which supplies 200,000 lbs/hr of superheated steam and operates up to 750 psig/750°F. This boiler is available for immediate delivery. Nationwide Boiler has extensive experience shipping boilers to plants worldwide throughout North America, Europe, Africa, Asia, Australia, and South America.
Nationwide Boiler not only stocks Babcock & Wilcox boilers for sale, but also highly utilizes B&W equipment in the company's rental fleet. Plant operators continue to rely on the trusted B&W brand name as a reliable steam source for their most vital operations.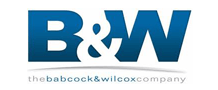 Our Partnership with Superior Boiler Works
Nationwide Boiler is pleased to be a Factory Representative for Superior Boiler Works, with exclusive territories ranging from Central and Northern California (including Kern and San Luis Obispo Counties) and all of Nevada.
As an exclusive factory representative, Nationwide Boiler stocks Superior firetube boilers and integrated boiler systems in a range of sizes for convenient and expedited delivery. Additionally, our 47.5 HP Superior stock boilers are pre-permitted for use in the South Coast and San Joaquin Valley Air Quality Management Districts.
Since 1917, Superior Boiler Works has shipped more than 20,000 boilers throughout the United States and internationally. Based out of Hutchinson, Kansas, Superior Boiler manufactures Scotch Marine 2-pass and 3-pass dryback boilers as well as 3-pass and 4-pass wetback boilers in sizes that range from 10 HP to 2,500 HP. In addition, Superior manufactures vertical firetube boilers for process steam and hot water, waste heat recovery boilers, high-efficiency hot water condensing boilers, and a diverse line of auxiliary boiler room equipment, including feedwater and blowdown systems.