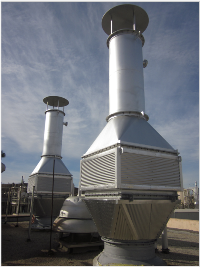 Customer Profile
• County of Los Angeles / Pitchess Cogeneration Auxiliary Boilers
• Castaic, CA
• Boilers installed in 1973
Supplied Equipment
• Two (2) Ammonia-free CataStak selective catalytic reduction systems
• Urea injection systems including urea injection skids with PLC, flow meters, injectors and day tanks
Located in the rolling hills of Castaic, on 2,620 acres, is the Peter J. Pitchess Detention Center (PDC). It is the temporary home of approximately 8,600 inmates and was established in 1938 as the Wayside Honor Rancho, a minimum security prison where inmates worked on a farm setting.
The PDC Cogeneration plant was brought on line in 1989 and produces all the electricity and steam needed to operate all PDC facilities. Within the plant are two dual-fuel fired Keeler auxiliary boilers that were mandated to meet the South Coast Air Quality Management District (SCAQMD) boiler NOx requirement of 5 ppm. This project required the installation of an Ammonia-Free Selective Catalytic Reduction (SCR) system on each of the two boilers with separate urea injection control systems. In addition one boiler needed to be operational during the entire installation process in order to provide temporary auxiliary services during unexpected downtime.
Nationwide Boiler supplied two Ammonia-Free CataStak™ SCR systems that utilized urea injection systems. The SCR systems utilize a common and readily available 32% urea solution called DEF (diesel exhaust fluid), providing PDC with proven SCR performance without the use of ammonia. DEF can easily be handled by boiler operators and does not require special HAZMAT compliance programs or procedures. The design and construction of the complete solution offered meets all standards, codes and specification including ASME, ANSI, NEC, and ASTM.
Nationwide Boiler contracted with California Boiler, Inc. for the installation of the SCR and the urea injection systems. This included removal of the top portion of each boiler's stack to facilitate the insertion of the SCR reactor housing, duct work and support frames.
Overall, the advanced Ammonia-Free CataStak™ SCR system easily reduced NOx emissions from 30 ppm to less than 3 ppm NOx with ammonia slip under 2 pp,m. The system also complies with Rule 1146 without concerns about meeting future NOx emission limits, providing PDC with superior NOx performance and hassle-free, dependable operations.
This breakthrough CataStak™ SCR technology enables Nationwide Boiler to provide industry with a cost effective, ammonia-free SCR system that achieves up to 95% NOx reduction at a very low capital and operating cost. Boiler owners and operators adverse to ammonia are now able to economically obtain the superior performance of SCR technology without being limited to the poor operating and energy intensive performance of Ultra Low NOx burners.