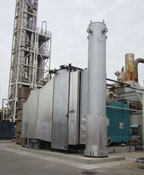 Customer Profile
• Olam Tomato Processors
• Lemoore, CA
• 2nd largest California tomato processor in the United States
Supplied Equipment
• Two (2) CataStak™ Selective Catalytic Reduction Systems (sale & rental units)
• Low excess air and no FGR low NOx burners
• Ammonia delivery systems with a Nationwide' Boiler NOx Reduction Control System
• 82,500 lb/hr BPS 500 psig rental boiler (new Babcock & Wilcox)
Olam Tomato Processors is the second largest California tomato processor in the United States and the largest certified processor of organic products. The company's two facilities in Lemoore and Williams offer a wide variety of bulk tomato paste as well as diced and canned products, with a combined peak capacity to process 1.5 million tons of raw tomatoes.
Olam was operating a 150,000 lb/hr watertube boiler equipped with an unstable, high FGR and high horse-power low NOx burner. To comply with the local air quality requirements in the San Joaquin Valley Air Pollution Control District, Olam required a reliable low NOx solution that would perform at 5 ppm NOx emissions. The company was also seeking energy reductions to save on fuel and electricity costs.
Nationwide Boiler retrofitted Olam's 150,000 lb/hr boiler with a CataStak™ SCR system and a new Todd Combustion Variflame Low NOx burner. Additional structural modifications on the existing boiler were also necessary to stabilize the new equipment. California Boiler, located in Visalia, was contracted to install the new equipment.
The burner and CataStak™ SCR equipment immediately helped Olam achieve significant efficiency gains (reduced motor HP and excess air) and better operational performance (higher turndown, more flame stability, and faster load response). NOx emissions were reduced by 95%, resulting in less than 5 ppm NOx, and NH3 slip was verified at less than 5 ppm.
In addition to the boiler retrofit project, Nationwide also supplied an 82,500 lb/hr Best Performance Standards (BPS) rental boiler with a CataStak™ SCR system, low excess air and no FGR low NOx burner, and EconoStak economizer with a variable frequency drive. To meet additional steam capacity, Olam rented the boiler for three years and purchased the equipment at the end of the rental term.