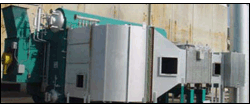 Customer Profile
• Major fruit processing manufacturer
• Operates in the San Joaquin Valley Air Pollution Control District
• Processes and packages over 25 million cases of a variety of fruits per year
Supplied Equipment
• New 50,000 lb/hr Babcock & Wilcox package watertube boiler
• CataStak™ SCR system with an ammonia injection grid, ammonia supply skid and controls
• EconoStak economizer
• Low NOx 30 ppm burner
A major food processing manufacturer required a new boiler at the company's fruit processing and packaging plant for process steam. The plant processes and packages over 25 million cases per year of a variety of fruits and required a system that would meet current and future low NOx air quality regulations while performing as energy efficient as possible.
The food manufacturer operated in California's San Joaquin Valley Air Pollution Control District (SJVAPCD), one of the most stringent in the country. NOx emission limits of no more than 9 ppm, using the best available control technology, were required. In addition, the installation of a back-pressure steam turbine for additional electricity generation to the plant was going to be integrated with the new boiler system and on time delivery and start-up were important in order to meet future project deadlines.
Nationwide Boiler supplied a new 50,000 lb/hr Babcock & Wilcox watertube package boiler with a low NOx 30 ppm burner. The system was also equipped with a CataStak™ selective catalytic reduction (SCR) system and an EconoStak economizer for fuel efficiency. The equipment supplied by Nationwide Boiler worked efficiently with the addition of a condensing stack heat recovery system, provided by Benz Air, to produce heated feedwater at 200 degrees Fahrenheit.
The equipment was delivered on time and exceeded the customer's expectations. It was certified to operate at better than 95% fuel-to-steam efficiency with less than 1 ppm NOx emissions at full-load conditions.
The exceptional efficiency and clean operation of the boiler earned the company a substantial energy efficiency rebate from the local utility company and the boiler's emissions are expected to meet any future low NOx emission levels expected to be put in effect by the SJVAPCD in the near future.
Nationwide Boiler leads the nation with the most successful 5 ppm NOx retrofits and installations for package boilers with our exclusive CataStak™ SCR System.
The company continues to offer the highest quality equipment for companies throughout California and the U.S. affected by the stringent and ever-changing NOx emission requirements.