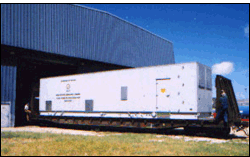 Customer Profile
• United States Navy's Facilities Command
• Washington Navy Yard
Supplied Equipment
• One (1) Firetube boiler rated at 5,000-20,000 lb/hr net output at 15-60 psi saturated, including safety valves and automatic level and pressure controls.
• Low NOx burner capable of firing natural gas, propane, or propane air. The burner utilized induced flue gas recirculation to limit NOx emissions to below 30 ppm
• Make-up, deaerator/condensate and feedwater system with pumps, valves, controls, and instrumentation necessary to receive returning condensate, deaerate make-up water, and pump feedwater to the boiler
• A 480 VAC, 3 phase, 60 Hz, 225 amp electrical distribution system
• Boiler blowdown and heat recovery system
• Natural gas/propane supply system
• Combustion air system and flue gas recirculation system
• Chemical treatment system
• Heating and ventilating system
• Water sample system
The U.S. Navy requires temporary steam supplies under many different circumstances. Most common among them are as back-up to facility boilers at Navy installations throughout the world, and as alternate steam sources for ships in port when their boilers are undergoing repairs. Transportability, meeting stringent low NOx regulations and compliance with MIL-SPECs are just a few of many requirements these systems meet.
Nationwide Boiler received a contract from the U.S. Navy Facilities Command to provide eight complete boiler systems, model NBI Low NOx Transportable Steam Plant. The contract included the following tasks: conceptual and detail design engineering, including CAD drawings, equipment selection, production fabrication and assembly, efficiency and emission compliance testing, quality assurance, and project engineering and management. All of these tasks were performed in full compliance with appropriate MIL- SPECs and contract requirements.
The NBI Low NOx Transportable Steam Plant is a self-contained unit mounted in a metal van-type enclosure attached to a steel base frame. The plant is designed to be shipped by rail, sea or over-the-road and to operate continuously with ambient temperatures ranging from -250 degrees to 110 degrees Fahrenheit at elevations from sea level to 5,000 feet.
The project was completed successfully with all requirements met and the eight transportable steam plants shipped to the customer in a timely manner. Today, Nationwide Boiler has in stock a variety of low NOx and ultra-low NOx transportable steam plants for rental or permanent use.