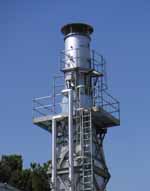 Customer Profile
• University of CA, Riverside
• Riverside, CA
• Founded in 1907 as the UC Citrus Experimentation Station
• 1,200-acre campus

Supplied Equipment
• Low temperature CataStak™ Selective Catalytic Reduction System
• Stack-mounted EconoStak economizer on existing 40,000 lb/hr boiler

The University of California at Riverside (UC Riverside) approached Nationwide Boiler with a need to reduce emissions and improve efficiency of their #4 boiler at the University's steam plant. The plant generates steam for facility uses throughout the large campus.

UC Riverside required an ultra low NOx, energy savings solution to decrease overall NOx emissions to 5 ppm, which would meet future mandates from the South Coast Air Quality Management District. The University also required a system that was designed to operate as safely as possible.

Nationwide Boiler retrofitted UC Riverside's 40,000 lb/hr Babcock & Wilcox boiler with an E2Stak solution, comprised of a CataStak™ selective catalytic reduction system and an EconoStak economizer. In addition, an ammonia safety system was designed for Nationwide Boiler's ammonia delivery system that included ventilating fans and ammonia detection devices to increase the safe handling of ammonia.

The equipment easily met the 5 ppm ultra low NOx emission requirements, which ensures that the customer will meet future NOx emission limits required by the local AQMD. The newly installed EconoStak economizer reduced stack temperature from 450°F to 300°F, resulting in a nearly 4% increase to the current boiler's overall efficiency and an immediate energy cost savings.

The customer was very satisfied with the overall performance of the system as well as the services provided by Nationwide Boiler and they plan to install another unit in the near future.