Nationwide Boiler stocks a large inventory of new and used boilers that are readily available to ship to Asia to help ensure that disruptions in production can be minimized. You can be certain that Nationwide Boiler will provide you with reliable and professional customer service and support 24-hours a day. Call today for all of your boiler rental/sales needs and speak to one of our experienced engineers, 1-510-490-7100. For a quick boiler quote, please submit the boiler inquiry form below.
Boiler Inquiry - Quick Quote
Mobile Boiler Systems
Over thirty years ago the first mobile boiler rooms were introduced by Nationwide Boiler featuring firetube boilers in a range of sizes. The boiler was housed in a self-contained, highway-legal mobile van that was fully piped and wired and designed for outdoor installation (weather protected). Today, Nationwide Boiler mobile boiler rooms range in size from 47.5 - 1,000 HP with operating pressures from 150 - 290 psi. Mobile Boiler Rooms typically feature a duplex water softener, chemical feed and blowdown system, and all valving and controls required for complete steam room operation. Electrical controls meet FM and NFPA 85 requirements.
Mobile boiler room rentals available from Nationwide Boiler:
Nationwide Boiler also carries mobile steam plants, with firetube boilers and support equipment mounted on an open, highway-legal trailer. These boilers were designed and are ideal for states with minimal inclement weather, such as California and Arizona.
Mobile steam plant rentals available from Nationwide Boiler:
Transportable steam plant rentals available from Nationwide Boiler:

20,000 lb/hr, 175 psig
Transportable Steam Plant Rental
Benefits of a Mobile Boiler Room
Enclosed work area - The entire steam plant, water treatment equipment and system controls are mounted inside a van-type structure.
Inclement weather protection - No additional structures are required for protecting the equipment from rain or freezing temperatures.
Personnel convenience - These units provide office space for maintaining logbooks, water chemistry testing, etc., and are designed for the comfort of boiler operators.
Aesthetically pleasing - Mobile boiler rooms are attractive, which can be an important consideration if the temporary steam plant is going to be located in a place that is visible to the public.
Project Spotlight - Chicken of the Sea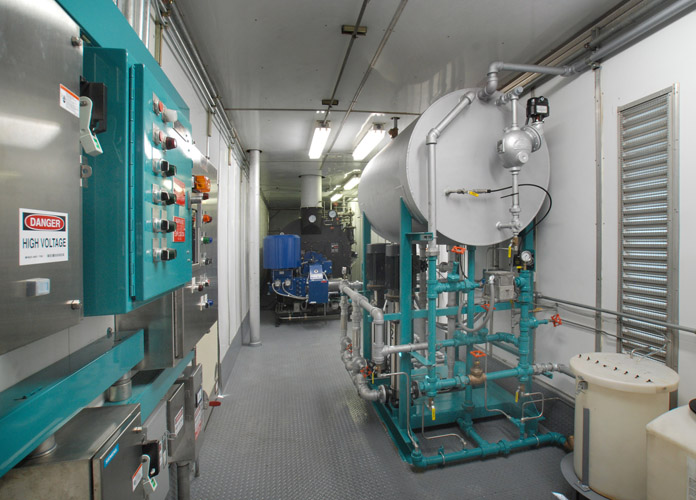 Chicken of the Sea selected Nationwide Boiler Inc. to supply the company's new Lyons, GA canning plant with a 650 HP (22,500 lbs/hr) Mobile Boiler Room for temporary steam. The new 200,000 square-foot facility was planned to help in the creation of 200 jobs around Toombs County and was expected to be fully operational by October 2009. The plant plans to process frozen tuna loins into Chicken of the Sea canned tuna.
Nationwide Boiler's Rental Sales Manager, Michael Medina, helped secure the order, noting the positive effect the new plant will have on the local economy. "This new plant is a major accomplishment for Chicken of the Sea and the surrounding community. We are proud that our boiler will allow the plant to efficiently produce their tuna and quickly bring it to market throughout the United States."
The portable boiler was on site for one-year and easily met the steam requirements of the plant. Today, the Chicken of the Sea plan is still operating strong and is proud to bring manufacturing back in the U.S.
Inside a Nationwide Mobile Boiler Room
Save Time with Simple Trailer-Mounted Boilers
Trailer-mounted rental boilers are mounted on customized, highway-legal trailers and can be quickly delivered, installed and started-up anywhere in the world, requiring no cranes or rigging equipment. For projects that require a higher capacity of a single boiler, multiple trailer-mounted boilers can be used in parallel to meet a higher steam demand.
Trailer-Mounted Boiler Rentals Available from Nationwide Boiler:
125,000 lb/hr, 750 psig, Low NOx
Trailer-Mounted Rental Boiler

110,000 lb/hr, 750 psig / 750 F Superheat Low NOx Trailer-Mounted Rental Boiler

82,500 lb/hr, 350 psig, Low NOx
Trailer-Mounted Rental Boiler

75,000 lb/hr, 750 psig / 750 F Superheat
Low NOx Trailer-Mounted Boiler Rental

75,000 lb/hr, 750 psig Saturated
Low NOx Trailer-Mounted Boiler Rental

75,000 lb/hr, 350 psig, Low NOx
Trailer-Mounted Boiler Rental

70,000 lb/hr, 400 psig, Low NOx
Trailer-Mounted Rental Boiler

70,000 lb/hr, 300 psig, Low NOx
Trailer-Mounted Rental Boiler

60,000 lb/hr, 680 psig / 750F Superheat
Low NOx Trailer-Mounted Rental Boiler

45,000 lb/hr, 350 psig, Low NOx
Trailer-Mounted Boiler Rental

40,000 lb/hr, 700 psig Saturated
Low NOx Trailer-Mounted Boiler Rental

CataStak SCRs for 5 ppm NOx
are Available for Most Boilers
Listed Above
The start of a new industry resulted in the mounting of a new 20,000 lb/hr package boiler on a permanent, highway-legal trailer by Nationwide Boiler in 1967. Today, Nationwide Boiler boasts the world's largest trailer-mounted rental boiler (125,000 lb/hr) and offers trailer-mounted boiler rental systems ranging in size from 30,000 lb/hr to 125,000 lb/hr with operating pressures from 300 - 750 psi (gas and/or #2 oil firing), including superheat units. Our boiler rentals are designed as completed engineered "flange-to-flange" solutions, saving you time and valuable resources when compared to other rental companies.
Benefits of a Trailer-Mounted Boiler
Quick response - Boilers are mounted on dedicated highway-legal trailers and can be dispatched to a job site, frequently in just a few hours.
Flange-to-Flange Solutions - Boilers are designed and engineered so all you have to worry about are connections to utilities and electrical requirements.
No cranes or rigging required - There is no need for special handling to load or unload boilers at either your facility or the storage yard. This saves the user time and money.
Simple to position and install - Custom dedicated trailers facilitate the maneuverability of trailer-mounted boilers.
Fast, easy start-up - Because trailer-mounted boilers are essentially self-contained, only a connection to an electrical power source, water and fuel supplies, and a steam header are required for operation.
Typical Components of a Trailer-Mounted Boiler
Boiler
Combustion controls
Trailer
Safety Valves
F.D. Fan, Motor & Starter
Blowdown Valves
Burner
Feedwater Stop & Check Valves
Feedwater Controls
Steam Gauge & Other Trim

Flame Safeguard System
Non-return Valve
Stack (loose)
NEMA 4 Electrical Enclosures
EconoStak Economizer (optional)
Low NOx CataStak™ SCR System (optional)
Weatherproofed (except for freezing)
Meets FM, NFPA 85 & IRI Insurance Standards
Operating Manuals
Installation of a Nationwide Trailer-Mounted Boiler
For projects that require higher capacities, skid-mounted rental boilers are offered with capacities up to 250,000 lb/hr and operating pressure to 1,200 psig (superheat and hot water boilers are readily available). These boilers can be shipped anywhere in the world and Nationwide Boiler offers several different delivery options to meet any time frame.
Skid-Mounted Boiler Rentals Available from Nationwide Boiler:
Benefits of a Skid-Mounted Boiler
Smallest footprint - Since there is no housing or running gear associated with the skid-mounted boiler, it is possible to place a higher-capacity system in a smaller space.
Most economical - Although there are rigging and handling costs at the staging yard and the using facility, for some long-term rentals those costs can be offset by lower boiler rental charges.
Project Spotlight - Dynegy Moss Landing, LLC (Formerly Duke Energy & PG&E)
One of the largest fossil-fuel based, electric-power-generating facilities in the U.S. is operated at Moss Landing, California. Two oil-fired boilers provide steam to two steam turbines which, in turn, drive two 750 megawatt generators. When a system is taken off line for maintenance, superheat steam is required during the system restart.
Occasionally, both boilers that provide steam to the two turbines at the Moss Landing facility must be taken off line at the same time. When this occurs, an auxiliary steam supply capable of providing 700 F steam is needed to pre-heat the system and draw a vacuum on the condensers. Because of the strict environmental standards, emissions produced by any boiler used for this purpose must not exceed 25 ppm NOx and 50 ppm CO.
A 55,000 lb/hr, 700 F skid-mounted package boiler rental was available in stock at Nationwide Boiler's Fremont, California facility. Although this boiler had sufficient capacity and met the steam temperature and pressure requirements, it did not meet the current NOx and CO emission limits of the Monterey Bay area at the time. The boiler was retrofitted with a new low NOx burner. After installing the new burner, the boiler was fully tested at the Nationwide Boiler test facility.
Because of the salt-air environment and since plans called for using this boiler only twice each year on average, special protection was provided. This protection consists of all NEMA 4X electrical enclosures and panels, Sealtite conduit, special priming and exterior paint, and a dry nitrogen blanket system that maintains a positive pressure of 10 inches of water inside the boiler. The protective inert-gas environment is used whenever plans call for a boiler to be out of service for an extended period.
Nationwide Boiler delivered the complete, fully tested boiler system with the low NOx burner. The boiler was installed with the support of Nationwide Boiler technicians and was currently available for service whenever needed to support start-up procedures. Actual emissions fell well below the required limits. Third-party source tests confirmed levels of 15 ppm NOx and 10 ppm CO at full-load conditions.