Nationwide Boiler Becomes Webster Burner Representative | August 2017
Oklahoma Storage & Maintenance Facility | August 2017
CataStak Source Test Confirms Less Than 1ppm NOx and Ammonia Slip | July 2017
Nationwide Boiler Obtains Experience Modification Rate of 0.61 | July 2017
Nearly $57,000 Donated to ABMA and Make-A-Wish Greater Bay Area | June 2017
Nationwide Boiler Celebrates 50 Successful Years in Business | March 2017

PDF Press Release
Nationwide Provides Five Superheat Boilers to Keep Plant Running | February 2017


PDF Press Release
Inside Look - World's First Mobile Boiler Room | January 2017

Nationwide Boiler selects only those manufacturers who provide the highest quality products and services possible. Our manufacturers have helped us maintain a superior reputation and we will continue to maintain positive relationships with them in order to form new partnerships and deliver the best available products and services to our customers.
Our Partnership with Babcock & Wilcox
As a proud partner and stocking distributor for Babcock & Wilcox (B&W), Nationwide Boiler has supplied innovative products manufactured by B&W to thousands of customers worldwide. With over 4,400 boiler units in operation across the world and a long tradition of supplying boiler systems dating back to 1867, no other company is more synonymous with steam generation than Babcock & Wilcox (an ISO 9001 and ASME certified company).
Nationwide Boiler stocks the versatile Babcock & Wilcox model FM 120-124 boiler, which supplies 200,000 lbs/hr of superheated steam and operates up to 750 psig/750°F. This boiler is available for immediate delivery. Nationwide Boiler has extensive experience shipping boilers to plants worldwide throughout North America, Europe, Africa, Asia, Australia, and South America.
Nationwide Boiler not only stocks Babcock & Wilcox boilers for sale, but also highly utilizes B&W equipment in the company's rental fleet. Plant operators continue to rely on the trusted B&W brand name as a reliable steam source for their most vital operations.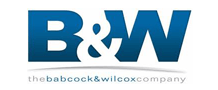 Our Partnership with Superior Boiler Works
Nationwide Boiler is pleased to be a Factory Representative for Superior Boiler Works, with exclusive territories ranging from Central and Northern California (including Kern and San Luis Obispo Counties) and all of Nevada.
As an exclusive factory representative, Nationwide Boiler stocks Superior firetube boilers and integrated boiler systems in a range of sizes for convenient and expedited delivery. Additionally, our 47.5 HP Superior stock boilers are pre-permitted for use in the South Coast and San Joaquin Valley Air Quality Management Districts.
Since 1917, Superior Boiler Works has shipped more than 20,000 boilers throughout the United States and internationally. Based out of Hutchinson, Kansas, Superior Boiler manufactures Scotch Marine 2-pass and 3-pass dryback boilers as well as 3-pass and 4-pass wetback boilers in sizes that range from 10 HP to 2,500 HP. In addition, Superior manufactures vertical firetube boilers for process steam and hot water, waste heat recovery boilers, high-efficiency hot water condensing boilers, and a diverse line of auxiliary boiler room equipment, including feedwater and blowdown systems.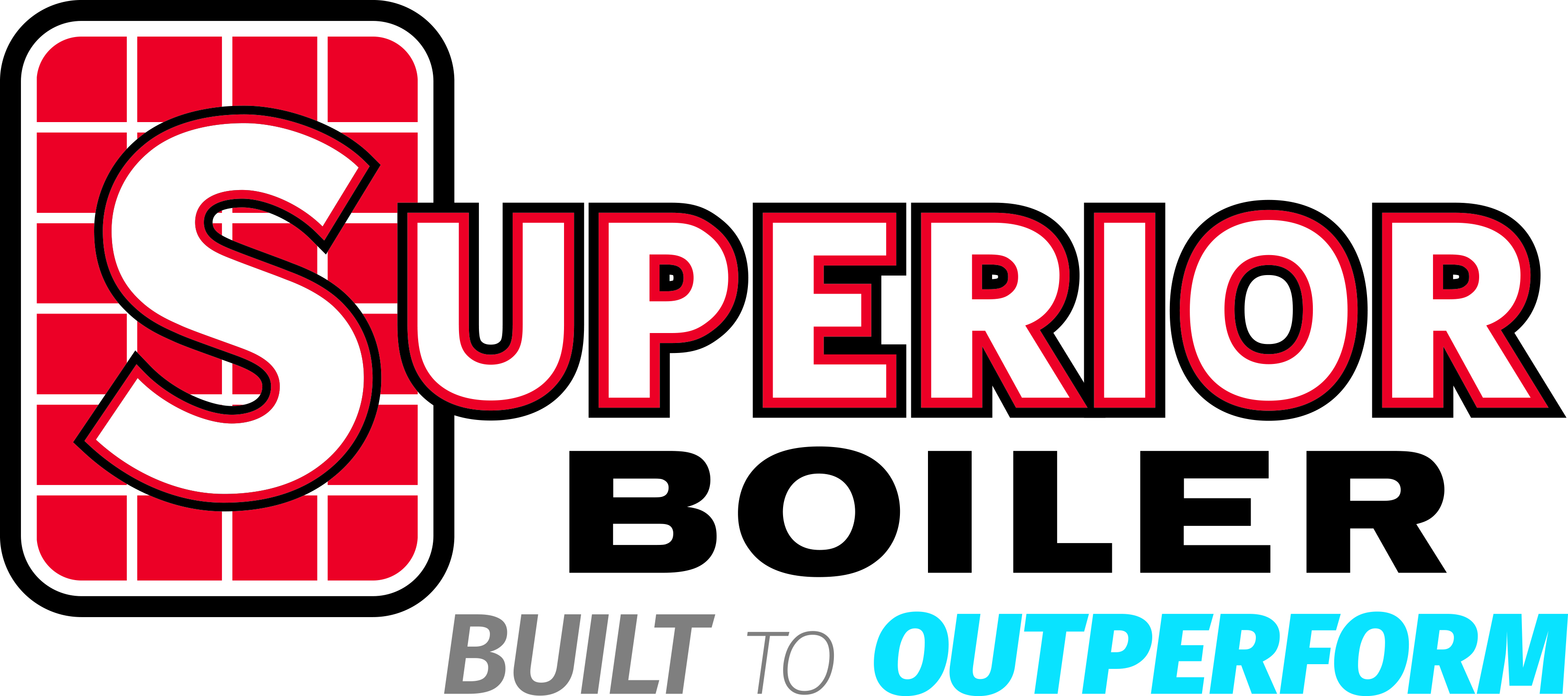 Nationwide Boiler's shop operations are critical for the on-time supply and delivery of dependable, fail-proof boiler equipment. Our shop includes highly trained mechanics, welders, electricians, and technicians that specialize in the repair, maintenance, and integration of boiler equipment and components of any size. Our 26,000 sq ft shop includes a complete line of equipment, including a 40 ton overhead crane as well as all major equipment needed for maintenance and testing of boiler systems.

Our shop facility capabilities have supported our long-term growth through capacity gains and productivity and Nationwide Boiler will continue to enhance our facility to meet the growing demands of the industries we serve.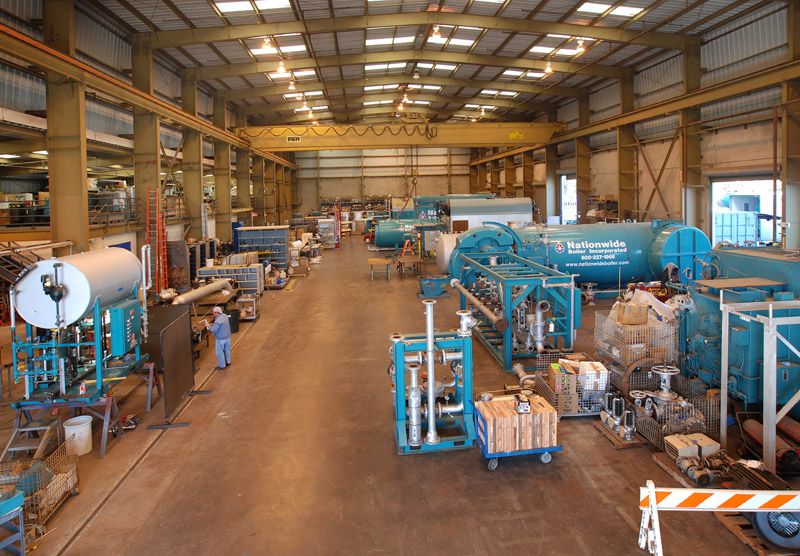 All of us at Nationwide Boiler appreciate being selected as the boiler equipment provider for our customers. Complete customer satisfaction is our number one priority and we strive to exceed our customer's expectations by providing the highest level of quality equipment and exceptional customer support possible.
As the President of the company, I am personally committed to being closely involved with each individual project that leaves our shop floor. This is for one simple reason - you will judge our company not on its reputation for quality, but on how well our equipment performs for you.
Overall, I hope the pride and care we put into our equipment and our dedication to provide professional customer service is apparent, and meets your company's approval. If it does not, for any reason, please call (800) 227-1966, at any time, day or night, and we will do anything we can to help.
I thank you for choosing Nationwide Boiler.
Larry Day
President & CEO, Nationwide Boiler Inc.
Nationwide Boiler and our boiler technicians have the proper certifications associated with complete boiler repair and modifications. This enables us to offer the assurance that the company and individual working on your boiler or other pressure vessel are fully qualified and able to accomplish the needed repair or modification required for reliable operation.
All equipment offered by Nationwide Boiler is manufactured, assembled and tested in strict accordance to ASME and other industry codes and specifications as applicable. In addition, our comprehensive Quality Assurance procedures include 100% hydrostatic and pneumatic testing of all pressure vessels and valves in conformance to the applicable standards below:
ASME Code Stamps S and U

Industry-wide standards for fabrication and repair of pressure vessels. They require technical knowledge and expertise to manufacture and repair boilers and other fired and unfired pressure vessels.

ASME Short/Long Form Testing

An industry-wide standard for testing and performance verification of power boilers. These tests require the application of the ASME Power Test Code.

National Board R Stamp

Similar to the ASME Code Stamps, this requires that the work of qualified welders be monitored and inspected by an independent third-party.

Hartford Steam Boiler

Authorized inspectors from Hartford Steam Boiler provide independent, third-party inspection of all Nationwide Boiler fabrication, manufacturing and repair work.
Mil-Specs

Nationwide Boiler has experience in meeting over 100 Mil-Specs. Included in these is MIL-I-45208A, the stringent quality assurance specification.

Emissions Testing

Nationwide Boiler is certified to verify emission levels according to federal, state and local E.P.A. testing requirements.

Mechanical Contractor's License

Nationwide Boiler holds a State of California Mechanical Contractor's License #448144.

Licensed Professional Engineers

Nationwide Boiler has registered Professional Engineers on its staff. This assures that all engineering work is accomplished to the highest engineering standards.

Welding Certification

Certified welders meet and maintain the appropriate skill and quality levels suitable for the work being performed.