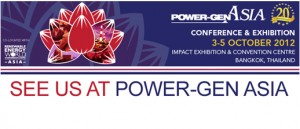 Visit Nationwide Boiler - Booth A29!

Join Nationwide Boiler in Bangkok on October 3 - 5 for Power-Gen Asia. Nationwide Boiler's Vice President of Sales, Larry Day and Business Development Manager, Bill Testa, will be showcasing the company's "World Boiler" - the versatile Babcock & Wilcox model FM 120-124 package boiler, which supplies 200,000 lbs/hr of superheated steam and operates up to 750 psig/750°F. This low NOx boiler is set to burn various fuel types (natural gas,plant gas, LPG, or fuel oil #2-#6) and includes all the necessary safety valves,controls, and auxiliaries for reliable and safe operation.

Contact Nationwide Boiler today to obtain your free exhibit floor hall pass and don't forget to visit us at booth A29.