Boiler Blog | Nationwide Boiler Inc.
Nationwide Boiler news and events, industry updates, technical resources and more. You hear it first on The Nationwide Boiler Blog!
Last Edition of Steamlines Newsletter for 2016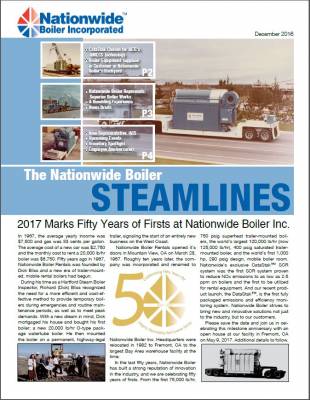 As we close out 2016, we have one last edition of The Nationwide Boiler Steamlines newsletter. Check out all the latest news, what's happening at Nationwide, and upcoming events in 2017.
We are excited to kick off the new year, as 2017 marks 50 years in business for Nationwide Boiler Inc. Check out the front page article to see photos of equipment from the early years at Nationwide and to learn about how Nationwide Boiler began, back in 1967 with founder Richard (Dick) Bliss.
Also, to celebrate our milestone anniversary, be sure to save the date and join us for an Open House and Luncheon at our headquarters in Fremont, CA on May 9, 2017. We hope to see you there!