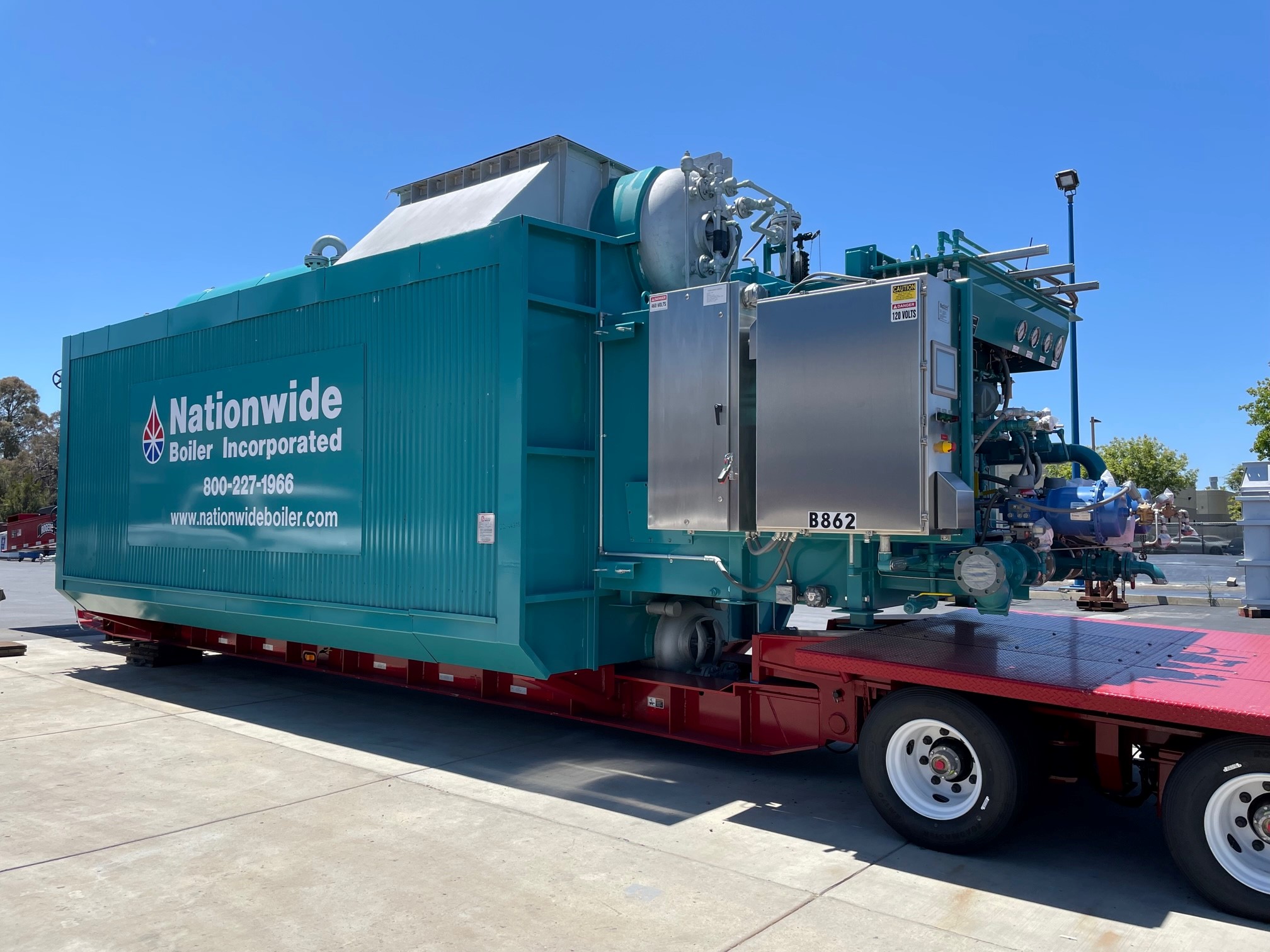 Higher capacity, smaller footprint, lower thermal NOx and a lower rear wall temperature... all in one, newly patented boiler design!
Superior Boiler's DFW boiler was developed to address the ongoing challenge of how to maximize boiler performance in the smallest footprint possible. With some unique and advanced tube configurations within the boiler furnace area, Superior accomplished this task and patented their technology as a proven solutions provider. Nationwide Boiler has already experienced the success of the DFW design with multiple permanent installations where only a small footprint was available for the boiler installation, and we have multiple units already operating in our rental fleet.


Features and Benefits of the DFW design include:

A smaller overall footprint compared to current designs, while maintaining overall capacity throughput
Utilization of a lower fan horsepower to create the same steam flow as a conventional boiler design - this results in lower overall cost of operations to our end users
Lower thermal NOx for decreased operating emissions
Reduced requirements for purchased materials and subcomponents, providing end users with a more cost-competitive offering 
Nationwide Boiler is the exclusive representative for Superior's DFW O-type and D-type package watertube boilers throughout the states of California, Nevada, Oregon, Washington, and Texas and for all rental boiler applications! Contact us today to learn more about this innovative boiler design. 
 
DFW Boilers Currently In-Stock or In-Production (new & rental units)


| Capacity  | Type | Design Pressure | Temperature |
| --- | --- | --- | --- |
| 150,000 lb/hr | O - DFW | 750 psig | Saturated |
| 100,000 lb/hr | O - DFW | 399 psig | Saturated |
| 90,000 lb/hr | O - DFW | 650 psig | Saturated |
| 85,000 lb/hr | O - DFW | 750 psig | 750F Superheat |
| 82,500 lb/hr | O - DFW | 399 psig | Saturated |
| 50,000 lb/hr | O - DFW | 650 psig | Saturated |