When operating a steam plant, there are many factors which determine the reliability and availability of a steam supply. Whether the steam is used to power a system or as a part of a process, mechanical engineers and power plant operators know that, in the majority of installations, management expects the system to run 24 hours per day throughout the year. Real-world conditions often make this impossible.

Frequently, there is a need for a temporary steam plant to replace or augment the permanent system for one of the following reasons:

           • Unplanned outages for emergency repair
           • Planned outages for repair, maintenance or upgrades
           • Increased capacity requirements to handle peak loads
           • Testing of a new process or production run
           • Research and development projects
           • Delays in bringing new systems on line

Although management expects steam plants to operate without interruption, as well as to meet new and changing requirements, the likelihood that one of the above listed factors will affect any steam plant operation in one year's time is 100 percent! Furthermore, the probability that some part of a steam plant will cause an interruption in service at least once during any year is about 20 percent.

One way to greatly improve the chances that your system will be able to supply steam reliably and without interruption is by planning for installation of a temporary steam plant. Typically, this means making adequate provisions for quickly installing a rental boiler and auxiliary equipment.

Steam plant equipment that can be rented for both short- and long-term periods include: 
| | |
| --- | --- |
| Boilers | Gas Regulators |
| Deaerators | Propane Vaporizers |
| Water Softeners | Feedwater Pumps |
| Chemical Feed Systems | Fuel Oil Skids |
| EconoStak Economizers | Gas Flow Meters |
| CataStak™ SCR Systems | Heat Exchangers |
| DataStak™ Emissions Monitoring | Valves |
| Blowdown Tanks | Additional Boiler Stack |
| Blowdown Heat Recovery Systems | Spare Parts Packages |

The best time to plan for installing a temporary steam plant is before the need actually arises. Including provisions for a temporary steam plant can be very cost effective if accomplished when building a new facility, or when making changes to upgrade your current power boiler or steam plant. Such provisions can be as simple as installing additional connections for steam, water, fuel and power.


BOILER REQUIREMENTS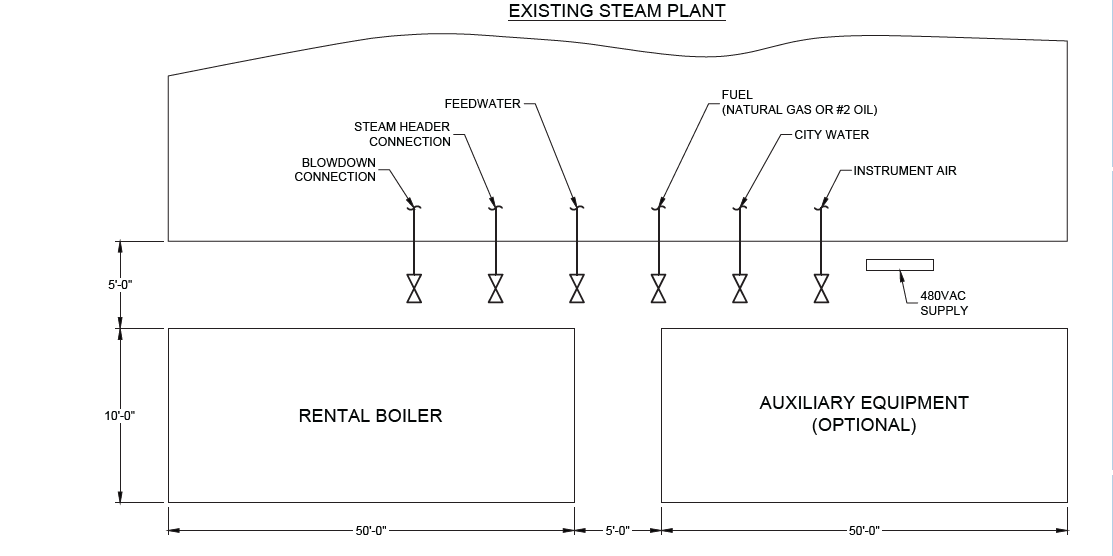 There are four different types of boilers that are available for rent: 

Type 1:  Mobile boiler rooms consisting of a complete system with firetube boiler and auxiliaries mounted in a semi-trailer van. Units are pre-piped and pre-wired.


Type 2:  Mobile boilers consisting of a package boiler and blowdown tank, mounted inside a container and on a chassis for mobility.  


Type 3: Trailer-mounted package watertube boilers.


Type 4: 
Skid-mounted package watertube or firetube boilers.


BOILER SIZE & WEIGHT


Temporary boilers require a firm foundation or footing. A concrete pad is the best support and asphalt is an acceptable alternative. At a minimum, a stable, well drained, compacted area is required with wood timbers sufficient to support the boiler's weight. The boiler must be blocked-up prior to operation. All weight must be removed from the running gear on trailer-mounted boilers.



STANDARD EQUIPMENT SUPPLIED WITH RENTAL BOILER

 

The following items are normally provided as a part of the complete rental boiler: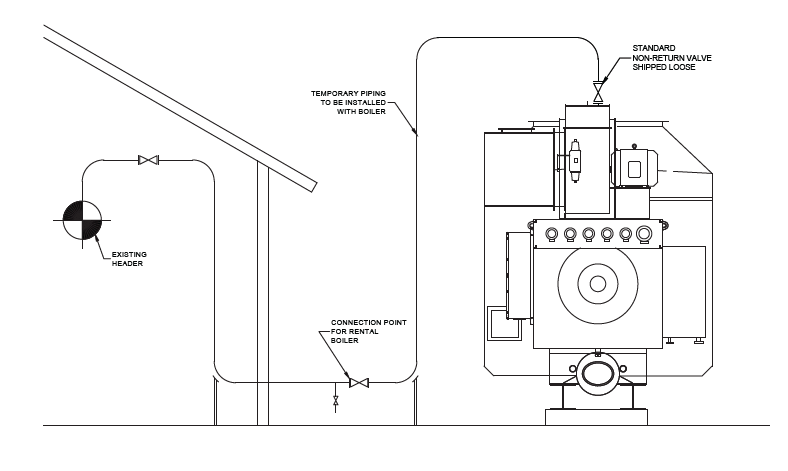 • Boiler
           • Combustion Control
           • Trailer
           • Safety Valves
           • FD Fan, Motor and Starter
           • Blowdown Valves
           • Burner
           • Feedwater Stop and Check Valves
           • Feedwater Controls
           • Steam Gauge and Other Trim
           • Flame Safeguard System
           • Non-return Valve




FUELS 




Nationwide Boiler's rental equipment can be fired on a variety of fuels. This includes natural gas, #2 oil, and propane, as well as more sustainable fuels like hydrogen-blended fuels and electricity. Our fleet of package watertube boilers can accomodate up to 20% hydrogen blended fuels without any modifications to they system. For higher concentrations, minor modifications may be required. 

To determine the amount of fuel required: 

Natural gas:      Boiler size: ___________ lb/hr X 1.28 = ___________ SCFH 


No. 2 fuel oil:    Boiler size: ___________ lb/hr X 0.0095 = ___________ GPH 


Propane:          Boiler size: ___________ lb/hr X 0.512 = ___________ GPH 
NOTE: Hp X 34.5 = ___________ lb/hr 


POWER REQUIREMENTS

A disconnect switch must be provided between the power source and the rental boiler. Install temporary conduit and wiring after the rental boiler arrives at the site.

PIPING SIZE 

1. All connections 1-1/2" and larger should be flanged.
2. All piping should be ASTM A-106 GrB or A53 GrB, SCH 80 or equivalent. 

INSTRUMENT AIR

On larger boilers, instrument air is required to drive the dampers, combustion controls, valves and regulators. Generally this requires a supply of 1-2.5 SCFM of dry, clean instrument air, supplied at 80-100 psig and regulated to 20-25 psig.

WEATHER PROTECTION

Generally, all rental boilers are equipped with weather protection. However, if low temperatures are expected, provisions should be made to protect the boiler from freezing. A shelter in front of and around the boiler should be considered for the comfort of the operating personnel during inclement weather.

LOCAL CODES & PERMITS 

Check local codes for stack height restrictions, emission limits, and other boiler installation requirements. Site specific air and operating permits will be required as well. Check with your local jurisdiction for additional information. Nationwide can assist with the process.


Download our complete Emergency Preparedness Guide for additional information.