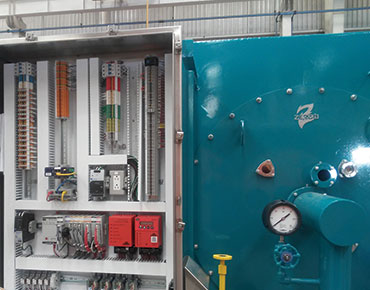 At Nationwide Boiler Inc., we've always been at the forefront of innovation in the boiler industry. Now, in response to the growing global concern over climate change and the urgent need for decarbonization, we are proud to announce a groundbreaking development in our capabilities – the ability to utilize hydrogen as a fuel for our existing fleet of package watertube rental boilers.
Our Legacy of Leadership in Emissions Reduction
Nationwide Boiler's journey towards environmental responsibility dates back to the 1990s when we became the first rental boiler company to convert our entire watertube boiler rental fleet to 30 ppm low NOx. Building upon that legacy, we introduced the CataStak™ SCR System, designed to achieve single-digit NOx compliance and proven in more than 200 installations. With a relentless commitment to providing emissions reduction solutions, we stand as a leader in the rental boiler industry.
Engineering Expertise and Sustainable Flexibility
The global movement towards a carbon-neutral future has prompted us to push the boundaries of innovation even further. We are now equipped to fire hydrogen-blend fuels in our mobile boiler rental fleet, offering unparalleled flexibility to customers ready to embrace the next phase of decarbonization.
While the combustion characteristics of hydrogen differ significantly from natural gas, our Engineering Team possesses extensive data and experience to support hydrogen-blend fuels for package boiler applications. Our stringent rental boiler construction standards, featuring high-grade and robust valving, fuel trains, burners, and system components, mean minimal burner upgrades are required for hydrogen firing. Our current fleet of watertube rental boilers, ranging from 30,000 to 125,000 pph, can efficiently handle blends of up to 20% hydrogen with natural gas without any system changes.
Committed to Cleaner Emissions
We understand the importance of reducing carbon emissions, and hydrogen offers a cleaner alternative to petroleum-based fuels. While it's true that hydrogen combustion can increase NOx emissions due to higher flame temperatures, Nationwide Boiler has a solution – our proven CataStak™ SCR system. This technology ensures emissions as low as 2½ ppm NOx, aligning perfectly with our commitment to environmental stewardship.
In addition to our hydrogen capabilities, Nationwide Boiler offers CataStak SCR systems, ultra-low NOx 5 ppm firetube boilers, and zero-emissions electric boiler packages. Whether you have temporary rental needs or seek a permanent solution, we have the ideal, eco-friendly boiler solution for you.
Your Partner in Sustainability
Our commitment to sustainability and innovation drives us forward, making us your ideal partner on the journey to a greener, more sustainable future. If you are looking for a temporary boiler, new package boiler, or a boiler / control system retrofit to support your hydrogen firing and decarbonization goals, we can help.
Contact us today at 800-227-1966.