Boiler Blog | Nationwide Boiler Inc.
Nationwide Boiler news and events, industry updates, technical resources and more. You hear it first on The Nationwide Boiler Blog!
Rental Boiler Logistics
Nationwide Boiler has a diverse rental boiler fleet. From large trailer-mounted watertube boilers, mobile boiler rooms, and small skid-mounted firetube boilers, we offer our customers a variety of options to meet any potential steam or hot water heating need.
For ease of shipping, our mobile boiler rooms and mobile steam plants only require a tractor to hook-up and tow-away. This is the advantage of mobile self-contained equipment. However, some of our skid-mounted systems and firetube-only rental boilers, for customers that do not need a complete steam plant, require an over-sized forklift or crane service for loading. In either case, Nationwide Boiler will coordinate the pick-up, delivery and customer notifications through one of our trusted shipping companies. Note that skid-mounted equipment, when delivered on a flatbed, will require off-loading at the customer's facility.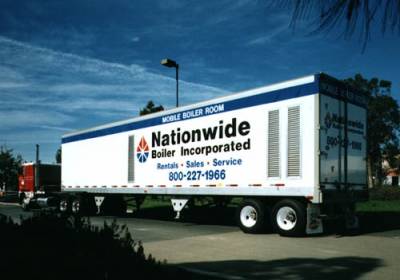 Nationwide Mobile Boiler Room Shipment
For some of our larger watertube rental boilers, 75,000 lb/hr steam output and above, a separate drop-deck trailer, in addition to the boiler trailer, is required. This is due to the height and weight limitations imposed by states' transportation departments. Though this extra shipment is 'highway-legal,' the boilers, in comparison, require overweight permits and tagging and are sometimes restricted to daylight travel and curfews in larger metropolitan areas. For these reasons, additional components required for boiler operation, namely the forced draft fan and motor, economizer (if a standard piece of equipment), and the short stub stack, are delivered separately. They are off-loaded at the job site and installed once the rental boiler is in place and leveled.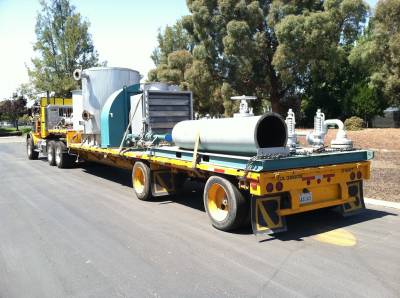 Typical Flat Bed Load for Large Watertube Rental Boilers
Our CataStak™ SCR emission control systems, for use in non-attainment low NOx emission areas, are also delivered on a flatbed for job site off-loading and installation on the boiler flue outlet.
At Nationwide Boiler, we like to ensure that our customers are aware of the logistics required when renting our boilers and auxiliary equipment. If you have any questions or recommendations regarding our boiler shipments, please contact us today at 1-800-227-1966.