Boiler Blog | Nationwide Boiler Inc.
Nationwide Boiler news and events, industry updates, technical resources and more. You hear it first on The Nationwide Boiler Blog!
Trailer-Mounted Rental Boilers Headed to the Midwest for Use during Annual Maintenance Shutdown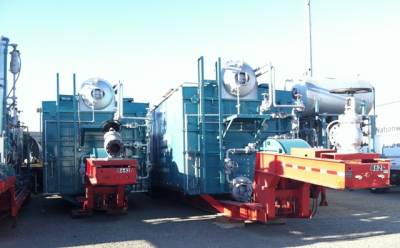 Two 70,000 lb/hr trailer-mounted boilers are scheduled to support a loyal, repeat customer in the Midwest. This customer has been renting from Nationwide Boiler at least once a year for the past 20 years for their annual plant shutdown to provide routine and preventative maintenance on their facility boilers. The company is part of the pulp and paper industry and manufactures household tissue products and paperboard used in packaging.
The first boiler arrived at the facility this past Wednesday, and the second boiler will be picked up today for the 2 day journey. The equipment will be onsite for one month or until the scheduled maintenance is complete.