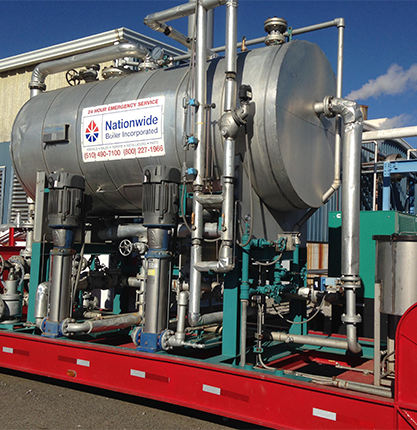 At Nationwide Boiler, we're committed to innovation that enhances boiler performance. Our trailer-mounted deaerating boiler feedwater systems are designed to provide the ultimate solution, available in various sizes to meet your specific requirements. These complete water treatment systems include a deaerating feedwater system, feedwater pumps, water softener with brine tank, and a blowdown separator. 

Click the links below to learn more about the rental feedwater systems available:

70,000 lb/hr Trailer-Mounted Feedwater System
---

Complete Boiler Water Treatment, Simplified
Our boiler water treatment systems leave no room for compromise. They are meticulously crafted to include a comprehensive suite of components including the deaerator, feedwater pumps, duplex water softener, and a chemical feed station. It's a one-stop solution for treating your boiler's feedwater with precision.
True Mobility for Your Operations
What sets our systems apart is their true mobility. These trailer-mounted feedwater systems are mounted on highway-legal trailers, ensuring unmatched rental system mobility. They are fully piped and wired, simplifying setup at your job site.
Efficiency, Convenience, and Reliability
Nationwide Boiler's commitment goes beyond just providing equipment; it's about delivering solutions that enhance your operations. Our trailer-mounted systems are designed for efficiency, convenience, and reliability, ensuring that your boiler feedwater treatment is seamless and hassle-free.