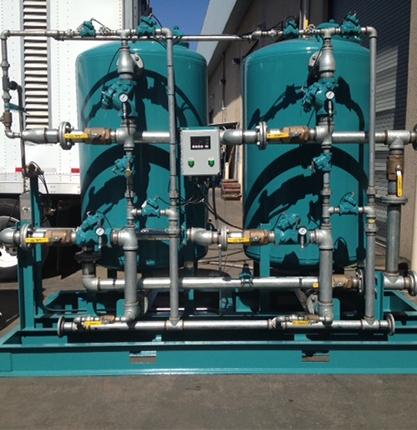 When it comes to optimizing your boiler system's performance, proper feedwater treatment is non-negotiable. At Nationwide Boiler, we maintain a diverse range of Water Softener Systems, meticulously designed to ensure your feedwater meets the highest quality standards before it enters your boiler system.

Click the links below to learn more about the rental water softeners available from Nationwide Boiler:


750,000 Grain Duplex Water Softener, Skid-Mounted System
900,000 Grain Duplex Water Softener, Skid-Mounted System
---

Precision Engineered for Excellence
Our Water Softener Systems are fully piped and wired, designed to seamlessly integrate into your setup. Their precision engineering guarantees that your feedwater is treated to perfection.
The Perfect Configuration for Every Need
At Nationwide Boiler, we understand that one size doesn't fit all. That's why our Water Softener Systems come in various sizes and configurations, with 2 or 3 softener tanks, catering to the specific requirements of your system. It's our way of ensuring that your feedwater treatment is precisely tailored to your needs.
Elevate Your Boiler System Performance
With Nationwide Boiler's Water Softener Systems, you're not just investing in equipment; you're investing in the longevity and efficiency of your boiler system. Our solutions are designed to protect your valuable assets, minimize downtime, and maximize performance.