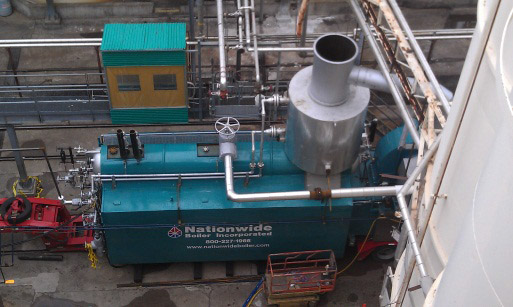 When power generation is your mission, reliability is your lifeline. With more than 55 years providing reliable steam solutions to industry, your can trust Nationwide Boiler for all your temporary and permanent steam needs. We offer a comprehensive suite of solutions to keep the energy flowing including rental, new and used boilers, control system upgrades, and ultra low NOx solutions.
When it comes to power generation, Nationwide Boiler delivers reliability, efficiency, and compliance in every solution we provide.
Rental Power When You Need It
With an extensive inventory of purpose-built rental boilers, Nationwide Boiler ensures you have the backup power you need, precisely when you need it. Count on us for uninterrupted energy production.
Stock Boiler Solutions for Speed and Efficiency
Our stock boiler solutions are engineered for quick deployment, providing you with efficient, off-the-shelf options to keep your operations running smoothly.
New and Used Boiler Equipment Sales
Invest in your future with our top-of-the-line boiler equipment. We offer both new and used / reconditioned boiler options that can be tailored to meet your unique needs.
Control System Upgrades for Enhanced Precision
Nationwide Boiler's controls division offers advanced control systems bringing cutting-edge automation and monitoring to your operations, ensuring peak efficiency and safety.
CataStak SCR System: Ultra-Low NOx Compliance Made Easy
Environmental responsibility meets operational excellence with the CataStak SCR System. Achieve ultra-low NOx compliance effortlessly, contributing to a cleaner, greener future.



Project Spotlights
Superheat Low NOx Boiler Rental Used for Start-up
Addition of Pacakge Boiler to Meet Contract Obligations
Ammonia-Free CataStakTM Achieves Less Than 3 ppm NOx