Boiler Blog | Nationwide Boiler Inc.
Nationwide Boiler news and events, industry updates, technical resources and more. You hear it first on The Nationwide Boiler Blog!
1 minute reading time
(64 words)
Did You Know: Addition of 75,000 lb/hr Superheated and Saturated Boilers
In 1998, Nationwide Boiler added 75,000 lb/hr trailer-mounted watertube boilers in two different models – 750F superheat temperatures and saturated steam conditions. Today we have a large stock of these superheated boilers and can offer them with a desuperheater for companies who need saturated steam. We often rent them out to companies in the pulp and paper industry, petroleum refineries, and chemical companies.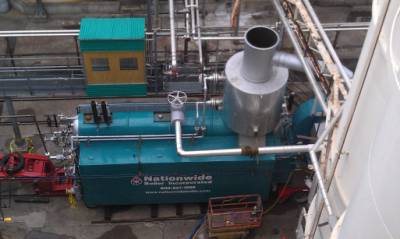 Comments
No comments made yet. Be the first to submit a comment

// MODIFICATION. REMOVES HOME-PAGE-ONLY CONTENT ON PAGES THAT ARE not IN NAVIGATION MENU ?>