Boiler Blog | Nationwide Boiler Inc.
Nationwide Boiler news and events, industry updates, technical resources and more. You hear it first on The Nationwide Boiler Blog!
1 minute reading time
(128 words)
Low NOx Boiler In Transit to Large Steel Producer in Mexico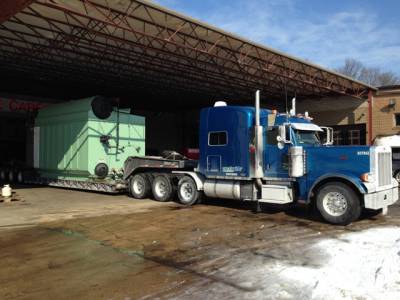 A 35,000 lb/hr 500 psig design 1992 Nebraska watertube boiler with feedwater system and Econostak economizer is currently in transit to Coahuila, Mexico for Deacero Steel, the second largest producer of steel wire worldwide. With the help of representative Gary Bartlett, Nationwide Boiler was able to secure the sale to help Deacero supplement the new power island providing the gas turbine with steam augmentation and NOx control.
To learn more about the project and Deacero Steel, check out our latest press release.
Nationwide Boiler has boilers available for immediate shipment worldwide, and has shipped equipment successfully to 6 of the 7 continents of the world. If you are looking for a boiler to increase capacity or replace existing equipment, give us a call at 1-800-227-1966 or send an email to info@nationwideboiler.com.
Comments
No comments made yet. Be the first to submit a comment

// MODIFICATION. REMOVES HOME-PAGE-ONLY CONTENT ON PAGES THAT ARE not IN NAVIGATION MENU ?>