Boiler Blog | Nationwide Boiler Inc.
Nationwide Boiler news and events, industry updates, technical resources and more. You hear it first on The Nationwide Boiler Blog!
1 minute reading time
(223 words)
Mobile Boiler Room Built for the East Coast Market
At Nationwide Boiler, we consistently evaluate our customers to determine how we can better serve their needs. Most recently, we determined that there is a need for additional Nationwide Boiler rental units on the East Coast, which drove a recent project converting an existing open-trailer unit to an enclosed mobile boiler room.
Upon inspection of the existing 300 hp mobile steam plant, we found that majority of the equipment, including the boiler, feedwater system, water softener and blowdown separator, was in good condition. The burner, however, needed to be replaced due to old age. A new Webster low NOx burner was installed on the boiler, capable of firing natural gas or #2 oil with 10:1 turndown.
Nationwide mechanics decommissioned the 300 hp mobile steam plant, mounted all equipment inside a new container, and piped and wired the system. The complete conversion from mobile steam plant to mobile boiler room, including the new burner install, took just three months to complete.
One advantage of mobile boiler rooms is that no additional structures are required to protect the equipment from rain or freezing temperatures. Mobile boiler rooms are popular during the winter months in the Midwest and in the East where customers experience inclement weather.
If you are in need of a temporary steam solution, check out our large inventory of mobile boiler rooms.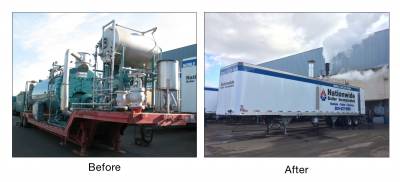 Comment for this post has been locked by admin.

// MODIFICATION. REMOVES HOME-PAGE-ONLY CONTENT ON PAGES THAT ARE not IN NAVIGATION MENU ?>