Boiler Blog | Nationwide Boiler Inc.
Nationwide Boiler news and events, industry updates, technical resources and more. You hear it first on The Nationwide Boiler Blog!
1 minute reading time
(204 words)
Nationwide Boiler Supplied Silicone Manufacturer with Second Superheat Boiler in Recent Years
A silicone materials manufacturer in West Virginia has selected Nationwide Boiler to supply a new boiler in the continued expansion of their processing plant. The new boiler was also purchased for reliability measures to be sure they will meet their steam demand and to cover any future issues with their existing aging equipment.
The 99.9 mmbtu, 750 psi design Babcock & Wilcox boiler was a duplicate of their previous purhcase from Nationwide Boiler in 2009. They were also supplied with Nationwide Boiler's exclusive EconoStak Economizer for maximum efficiency and a low NOx burner that will not exceed 30 ppm NOx.
There were three key elements that helped Nationwide secure the repeat sale to this customer:
Staying under 100 mmbtu input allowed for faster air permitting and also avoided new source performance standards review and the requirement of a continuous emissions monitoring system (CEMS).

The equipment was new and readily available for quick shipment.

The customer was satisfied with the previous boiler's performance and Nationwide's outstanding customer service, and they felt comfortable working with familiar and trusted people.
Check out our press release for the full story, and call Nationwide Boiler at 1-8100-227-1966 to see how we can provide reliable steam solutions for your facility.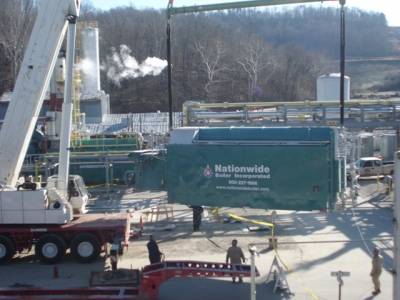 Comments
No comments made yet. Be the first to submit a comment

// MODIFICATION. REMOVES HOME-PAGE-ONLY CONTENT ON PAGES THAT ARE not IN NAVIGATION MENU ?>