Boiler Blog | Nationwide Boiler Inc.
Nationwide Boiler news and events, industry updates, technical resources and more. You hear it first on The Nationwide Boiler Blog!
1 minute reading time
(211 words)
New Boiler and Catastak SCR System Supplied To Major Texas Oil Refinery
Nationwide Boiler Inc. recently facilitated the expedited delivery of a new boiler system in less than six months to a major crude oil refinery in El Paso, Texas. The boiler supplied is a new, in-stock Babcock & Wilcox D type watertube package boiler, model FM120-124, capable of producing 200,000 lb/hr of superheated steam and designed at 750 psig / 750°F superheat. The system includes a low NOx burner, an EconoStak economizer, a Nationwide CataStak™ SCR NOx Reduction System (using 19% aqueous ammonia and vaporizer), SIL Level 2 Burner Management System, desuperheater, stack, and FD fan.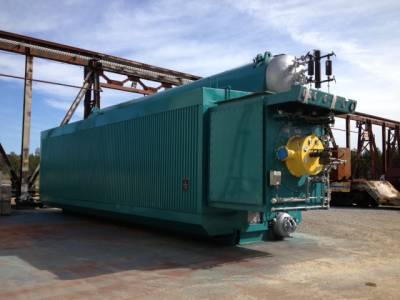 The plant currently processes approximately 128,000 bpd of crude oil and with this replacement boiler, plant capacity is expected to increase to 150,000 bpd. "As refineries seek to quickly increase capacity and comply with strict emission regulations, Nationwide Boiler is uniquely qualified to provide in-stock boiler solutions that incorporate the highest standards in safety, efficiency and emission reducing capabilities," said Larry Day, Nationwide Boiler Vice President, Sales & Marketing. "Our long-lasting relationship with Babcock & Wilcox and other OEM suppliers has enabled Nationwide Boiler to provide the highest quality boiler systems to customers located throughout the world. This project is another example of how we can meet the needs of those customers seeking immediate boiler solutions."
Comments
1 very relevant and updated information shared in this article........also very well explained......
nice concept...
thank you so much for sharing....
keep updating.......
http://www.maniks.com/desuperheater.html

very relevant and updated information shared in this article........also very well explained...... nice concept... thank you so much for sharing.... keep updating....... http://www.maniks.com/desuperheater.html

// MODIFICATION. REMOVES HOME-PAGE-ONLY CONTENT ON PAGES THAT ARE not IN NAVIGATION MENU ?>