Boiler Blog | Nationwide Boiler Inc.
Nationwide Boiler news and events, industry updates, technical resources and more. You hear it first on The Nationwide Boiler Blog!
1 minute reading time
(141 words)
New to Our Rental Fleet: 110,000 lb/hr Mobile Boiler
Nationwide Boiler is known in the industry as an innovative leader. From the introduction of the first 20,000 lb/hr trailer-mounted boiler in 1967 to the first ultra low NOx mobile boiler rooms in 2000, Nationwide has continually 'wow-ed' the industry with new, ground-breaking products.
Today, we would like to announce our newest innovation, the world's largest trailer-mounted superheat mobile boiler! This 110,000 lb/hr Babcock & Wilcox package watertube boiler is designed at 750 psi / 750F superheat and is set to burn natural gas or future #2 oil. It is highway legal allowing for shipment anywhere in the U.S. (pending permit approval). And for ultra low NOx requirements, a CataStak™ SCR can be added, reducing emissions down to 5 ppm NOx.
This boiler is available for rental or for purchase, and is scheduled to be ready for service early next year.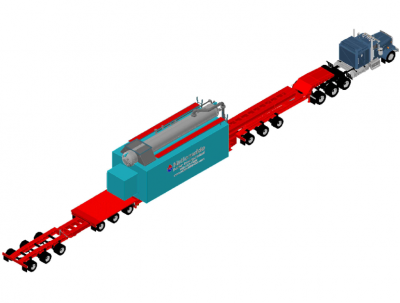 Comments
No comments made yet. Be the first to submit a comment

// MODIFICATION. REMOVES HOME-PAGE-ONLY CONTENT ON PAGES THAT ARE not IN NAVIGATION MENU ?>