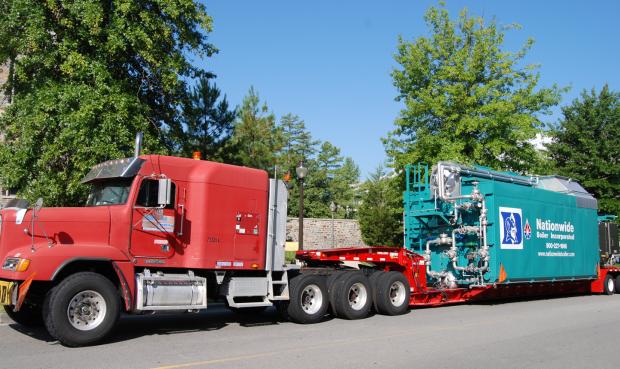 On April 14, 2011 Duke burned the last of its remaining stock of coal from its famous black mountain off Coal Pile Drive. As part of Duke's Climate Action Plan to become carbon neutral by 2024, the University is converting its West Campus steam plant from a coal-burning plant to a natural gas-burning plant.
To aid in the University's efforts, Nationwide Boiler supplied a temporary 82,500 lb/hr trailer-mounted boiler for the plant, proudly delivered to the University with their Blue Devil logo. The boiler will be used until next Spring while the West Campus Steam Plant acts as a "base plant", along with steam produced at the East Campus plant, to heat Duke's buildings, sterilize surgical equipment and maintain proper humidity for art work and lab research.
Duke's director of Sustainable Duke, Tavey McDaniel Capps, said Duke's steam plant renovations make it a leader for other colleges and universities who are also focused on helping the environment. "This kind of step is pivotal in our effort to move closer to carbon neutrality," she said. "Being proactive in our sustainable efforts will make a big difference in the future."