Boiler Blog | Nationwide Boiler Inc.
Nationwide Boiler news and events, industry updates, technical resources and more. You hear it first on The Nationwide Boiler Blog!
1 minute reading time
(105 words)
Pre-Delivery Testing: Phase 1 of 2
This week Nationwide Boiler has been conducting phase 1 of 2 of a pre-delivery testing procedure for the recent sale of five (5) 650 hp mobile boiler rooms. With this process, Nationwide intends to demonstrate the operational performance of these boilers to the customer, as well as begin familiarizing the customer with the equipment.
The test-fire includes live firing on natural gas at the rated design input of each mobile boiler room, and an oil fire for units equipped with back-up fuel. All safety devices are being tested at their set-points, and emissions are being recorded to ensure they meet local NOx and CO requirements.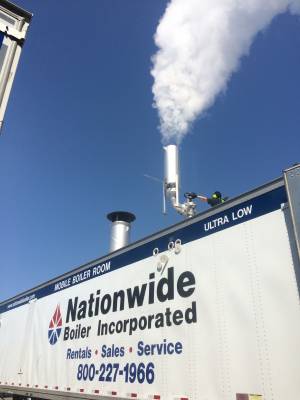 Comments
No comments made yet. Be the first to submit a comment

// MODIFICATION. REMOVES HOME-PAGE-ONLY CONTENT ON PAGES THAT ARE not IN NAVIGATION MENU ?>