Boiler Blog | Nationwide Boiler Inc.
Nationwide Boiler news and events, industry updates, technical resources and more. You hear it first on The Nationwide Boiler Blog!
1 minute reading time
(100 words)
Rental Boilers & Mobile Feedwater Van - Voyage to the Middle East
Nationwide Boiler recently shipped two 70,000 lb/hr trailer-mounted boilers and one 140,000 lb/hr feedwater van to Qatar as part of Qatar Petroleum and Shell's Pearl GTL project.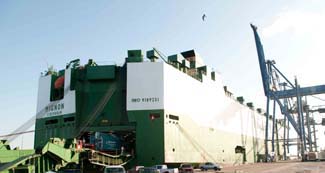 We took some incredible photographs of our units being shipped on the Mignon, measuring over 227 meters in length and with a car capacity of 7,200 units. Read the complete Press Release online.

The equipment is currently in transit where it will await initial start-up services and full time operation by Nationwide Boiler. Be sure to check back later when we discuss the logistics and planning involved in shipping the units back home!
Comments
No comments made yet. Be the first to submit a comment

// MODIFICATION. REMOVES HOME-PAGE-ONLY CONTENT ON PAGES THAT ARE not IN NAVIGATION MENU ?>