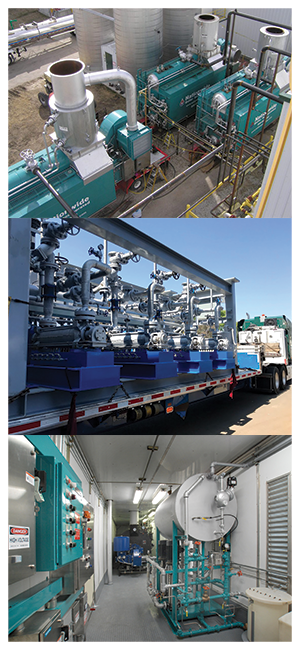 Based in the San Francisco Bay Area with a dedicated sales and service office in the Central Valley, Nationwide Boiler has been the go-to source for boiler solutions in California and beyond since 1967. While our foundation was built on a solid reputation for top-tier rental boiler equipment, our expansion throughout the years has transformed us into a comprehensive provider of excellence. Our offerings encompass a wide range of solutions including in-stock and built-to-spec firetube and watertube boilers, efficiency enhancements, custom UL-certified combustion control systems, NFPA fuel trains, and more. Plus, we're at the forefront of ultra-low NOx emissions technology, offering clean, sustainable solutions that cover a wide range of applications and a myriad of other cutting-edge options.
As a trusted manufacturer's representative, Nationwide Boiler is equipped to deliver both new and retrofit equipment tailored to your facility's unique needs. Moreover, Nationwide Boiler understands the intricate web of emissions regulations throughout the state of California. Our seasoned team of experts stands ready to provide valuable air permitting resources and guidance, ensuring your facility stays compliant with the ever-evolving and stringent emissions standards.
With Nationwide Boiler, rest assured that your operations are in capable hands. We're not just about boilers; we're about empowering your success.
---
With headquarters in Fremont, California, our fleet of more than 100 rental boilers offer a quick ship solution for our California customer base. Nationwide Boiler's trailer-mounted and skid-mounted rental boilers range in size from 475 hp to 200,000 lb/hr and consist of boilers designed for both saturated and superheated steam needs.
Ranging in size from 47.5 HP to 1,000 HP, Nationwide Boiler's rental fleet features both open-trailer mobile steam plants and fully enclosed mobile boiler rooms. Many of our mobile steam plants and mobile boiler rooms are ultra low NOx for emissions compliance in the most stringent locations throughout the state. Plus, many pre-permitted mobile boiler rooms for expedited use in the South Coast Air Quality Management District (SCAQMD).
Nationwide Boiler offers new, built-to-spec equipment, new in-stock equipment, and used/reconditioned boilers that are available for quick ship needs. This includes firetube and watertube boilers as well as units that are capable of firing standard fuels (natural gas and LPG), electric boilers, and hydrogen-fired boilers.
Nationwide Boiler's CataStak SCR Systems are a proven solution for 2.5 ppm NOx performance. The versatility of the CataStak is unmatched, with an option for vertical or horizonal configuration as well as urea, anhydrous ammonia, or aqueous ammonia as the reagent. Nationwide Boiler's experience as both a supplier and a user of the CataStak SCR system takes it one step further. The CataStak is available for use with package boilers, fired heaters, gas turbines, and other fired equipment applications.
As an exclusive representative for E-Tech Heat Recovery Systems, Nationwide Boiler can offer new and replacement economizers to help make your operation more efficient. Plus, E-Tech is the only current manufacturer with the ability to replace old Kentube economizers with an exact copy of the original.
Nationwide Boiler is an exclusive representative for both Oilon and Webster Combustion, allowing us to provide a wide array of options for our customers when they are in need of a burner retrofit, burner parts, or a completely new system.
Nationwide Boiler maintains a large fleet of auxiliary equipment to support the boilers in our rental fleet, and we also sell various new boiler auxiliaries from our manufacturer's. This includes deaerators, feedwater systems, feedwater pumps, water softeners, blowdown separators, and more.
Nationwide Control Solutions, a division of Nationwide Boiler, can provide new and replacement PLC-based control systems to improve the operation and troubleshooting process for your boiler. Panels are built in our UL-certified manufacturing facility based in Washougal, Washington.
Additional Services Available
In addition to everything listed above, Nationwide Boiler stands by our promise to deliver "Integrity, Dependability, and Real Customer Service" with turnkey options to set up your project for success. Additional services available include air permit and utility rebate assistance, freight and logistics coordination, turn-key projects and system evaluations, and project management and coordination.