Boiler
Blog
|
Nationwide
Boiler
Inc.
Nationwide Boiler news and events, industry updates, technical resources and more. You hear it first on The Nationwide Boiler Blog!
1 minute reading time
(87 words)
10
Tips
for
Preparing
a
Temporary
Steam
Plant
Process Heating's September issue features an article written by Nationwide Boiler's rental and sales manager, Michael Medina. The article, entitled "10 Tips for Preparing a Temporary Steam Plant", provides a guide for boiler owners and operators when preparing a contingency plan for their facility. A rental boiler can be required for a number of reasons and preparation is important in any case, whether a planned or unplanned outage.
Check out the article to learn more, and for additional information take a look at our Emergency Preparedness Plan.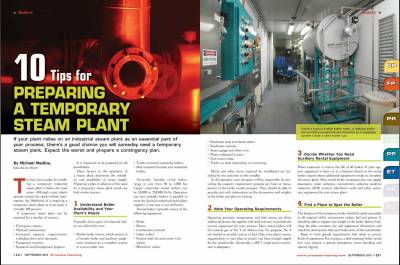 Related
Posts
Comments

No comments made yet. Be the first to submit a comment

By accepting you will be accessing a service provided by a third-party external to https://www.nationwideboiler.com/

// MODIFICATION. REMOVES HOME-PAGE-ONLY CONTENT ON PAGES THAT ARE not IN NAVIGATION MENU ?>