Boiler Blog | Nationwide Boiler Inc.
Nationwide Boiler news and events, industry updates, technical resources and more. You hear it first on The Nationwide Boiler Blog!
1 minute reading time
(119 words)
Nationwide Boiler Achieves New Safety Milestone
Nationwide Boiler has achieved yet another safety milestone – 2,500 days without a loss time accident! This marks the longest length of time Nationwide has gone without an accident in our forty-four years of operation. The company maintains a shop facility of 26,000 sq.ft., used for the maintenance, repair and assembly of boiler systems and auxiliaries. Nationwide Boiler's Experience Modification Rate (EMR), a benchmark measure used for insurance premium discounts that compares worker compensation claims to other employers of similar size operating in the same type of business, has greatly improved over the last seven years. To date, Nationwide Boiler has realized a cumulative cost savings of over three-hundred-thousand dollars as a result of the company's commitments to safety.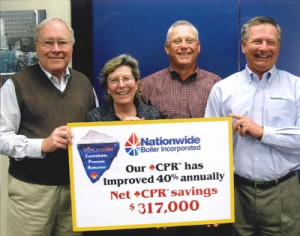 Comment for this post has been locked by admin.

// MODIFICATION. REMOVES HOME-PAGE-ONLY CONTENT ON PAGES THAT ARE not IN NAVIGATION MENU ?>