Boiler Blog | Nationwide Boiler Inc.
Nationwide Boiler news and events, industry updates, technical resources and more. You hear it first on The Nationwide Boiler Blog!
1 minute reading time
(50 words)
Power Engineering Publication - NOx Limits Met with Ammonia-Free SCR Solution
The latest issue of Power Engineering Magazine includes a feature article highlighting Nationwide Boilers first ever Ammonia-Free CataStak SCR installation for two 55,000 lb/hr watertube boilers. The system easily reduced NOx emissions to comply with local air regulations. To see the publication and learn more about this project, click here!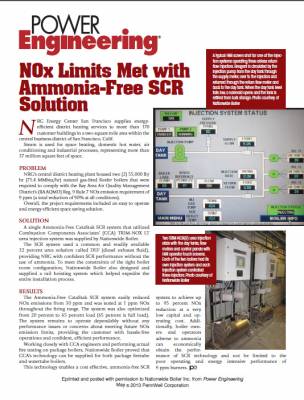 Comments
No comments made yet. Be the first to submit a comment

// MODIFICATION. REMOVES HOME-PAGE-ONLY CONTENT ON PAGES THAT ARE not IN NAVIGATION MENU ?>