Boiler Blog | Nationwide Boiler Inc.
Nationwide Boiler news and events, industry updates, technical resources and more. You hear it first on The Nationwide Boiler Blog!
1 minute reading time
(116 words)
Two New 70,000 lb/hr Trailer-Mounted Boilers Added to Rental Fleet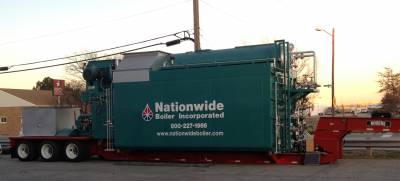 At Nationwide Boiler we are continually increasing our stock inventory to ensure that we have as much equipment available to customers as possible. The newest addition to our rental fleet is two (2) new 70,000 lb/hr trailer-mounted saturated, package watertube boilers with design pressures of 400 psig. Built by Cleaver-Brooks Nebraska Boiler, these units are completely pre-piped and pre-wired and can be fired with natural gas or no. 2 oil. Both boilers are equipped with low NOx burners and have the option of adding EconoStak economizers for added fuel efficiency. These boilers are available and are ready for immediate shipment worldwide!
Visit our website at www.nationwideboiler.com to see more boilers and equipment available for rental or purchase.
Comments
1 nice article... helps a lot..... thank you so much for given such kind of information...... keep sharing..... http://www.maniks.com/desuperheater.html

// MODIFICATION. REMOVES HOME-PAGE-ONLY CONTENT ON PAGES THAT ARE not IN NAVIGATION MENU ?>