Boiler Blog | Nationwide Boiler Inc.
Nationwide Boiler news and events, industry updates, technical resources and more. You hear it first on The Nationwide Boiler Blog!
3 minutes reading time
(508 words)
Reduce, Reuse, Recycle – Rental Boiler Edition

At Nationwide Boiler, we maintain a purpose-built fleet of over 100 rental boiler systems from as small as 47.5 hp to as large as 200,000 lb/hr. We have multiple configurations including mobile, trailer-mounted boilers, complete mobile boiler rooms and mobile steam plants, skid-mounted firetube and watertube boilers, factory-integrated skid packages, and even electric boiler systems. With a rental fleet as versatile as ours, we can always find a solution when a customer comes calling.
It is not uncommon for a rental boiler to return and need repairs. A unit might need parts to be replaced, an acid cleaning or even a complete retube, but the worst-case scenario would be the need to scrap a boiler entirely due to damage beyond repair. But if a boiler is properly maintained, as we have said before, it can last a lifetime. A boiler retube can transform a system and bring it back to like-new condition. And, with so many different types of boilers in our rental fleet, we have found other ways to transform, reuse, and recycle when our equipment still has years of life left.
Our most recent boiler transformation project, completed earlier this year, included one of our longest standing 300 hp mobile boiler rooms. Upon return and inspection from its last rental project, we found that the enclosed trailer was at the end of its useful life. However, the equipment inside of the trailer (a 300 hp ultra-low NOx firetube boiler, atmospheric feedwater system, duplex water softener, and a blowdown separator) had many years of service left. With those facts in mind, we had multiple options to consider: (1) remove equipment from the trailer, recondition, and resell, (2) remove all equipment, replace the trailer, and rebuild the system, or (3) transform the unit into what we call our "Cal Special", a mobile steam plant with all equipment mounted on an open trailer.
For obvious reasons, we didn't want to scrap the boiler and auxiliary equipment altogether. Furthermore, this unit in particular is one of our SCAQMD pre-permitted systems, a huge value to our customers. Since it was a pre-permitted unit and ideal for users in California, we decided to go the route of reusing all equipment and converting the unit to an open-trailer system, otherwise known as our "Cal Special" mobile steam plant. Although our "Cal Special" units were originally designed for customers within California and other locations that do not reach freezing temperatures, they can be rented elsewhere as long as they are properly weather protected at the jobsite.
Our shop team in Fremont worked hard to remove all equipment, clean, repair, and replace any parts necessary, rework, mount and install the entire system on an open-trailer. In addition, our controls division, Pacific Combustion Engineering, built a brand new, PLC-based touchscreen control panel to provide our customers with simple control and troubleshooting.
Fully piped and wired, the newly rebuilt 300 hp mobile steam plant is complete with a fresh coat of paint. It is now getting ready to head out on it's first rental since the upgrade!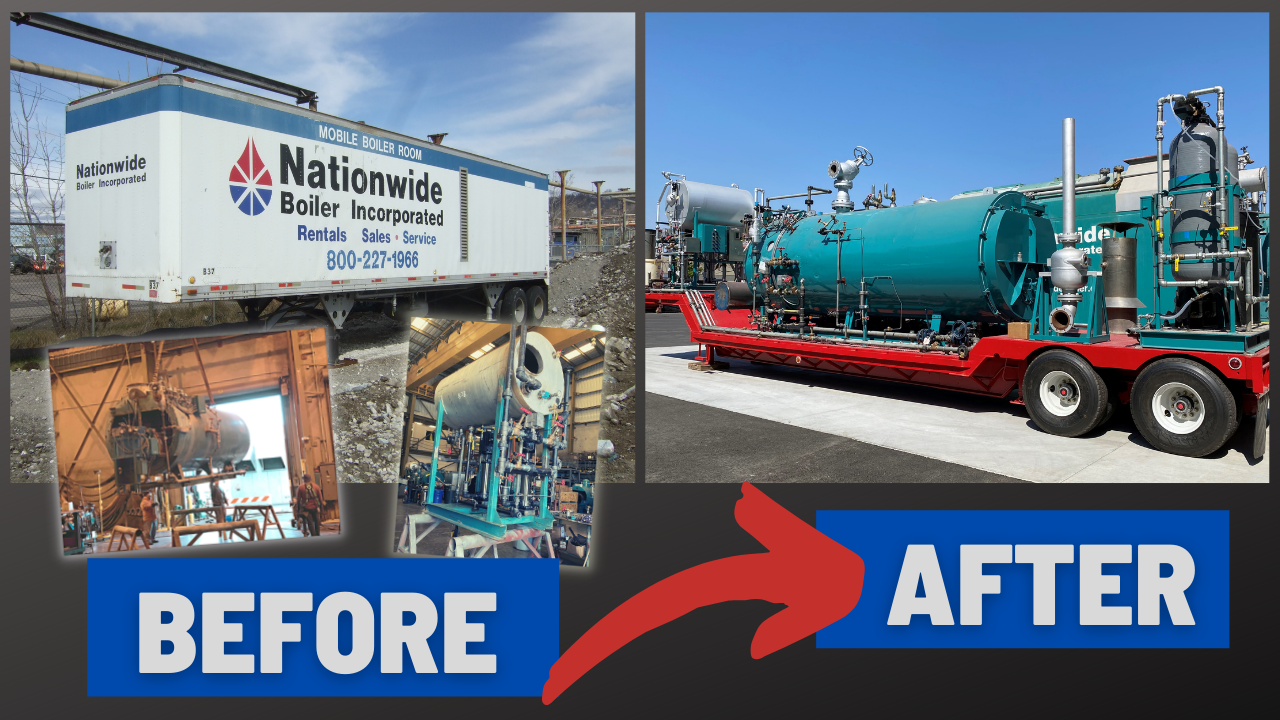 Comments
No comments made yet. Be the first to submit a comment

// MODIFICATION. REMOVES HOME-PAGE-ONLY CONTENT ON PAGES THAT ARE not IN NAVIGATION MENU ?>