Boiler Blog | Nationwide Boiler Inc.
Nationwide Boiler news and events, industry updates, technical resources and more. You hear it first on The Nationwide Boiler Blog!
1 minute reading time
(284 words)
Team Building for Success!
Last weekend Nationwide Boiler hosted sales representatives from across the globe for a Nationwide Sales Rep Team Meeting. We felt it would be good for each of our reps to get to know each other, and for our reps to meet all of the members of the Nationwide Boiler team.
The weekend began on Thursday evening with a "meet and greet" social hour at the Doubletree hotel in Newark, CA. Friday morning the meeting commenced with a buffet breakfast and an introduction by each representative company. The theme for the event became known early on as "Don't Let Us Drop the Ball".
Throughout the day, topics of discussion included communication, sales support, boiler rentals and equipment sales, environmental issues and products, and branding. We wanted to make sure, as a company, Nationwide provides our partner reps with complete transparency as well as all of the resources required to successfully market Nationwide Boiler's equipment and services to our potential clients in their respective territories. And we want to make sure that we "don't drop the ball" on any current or potential jobs. We ended the day with a cocktail hour followed by a tappenyaki style dinner at Nijo Castle.
On Saturday, we invited all attendees to our shop for a tour of our 26,000 sq. ft. facility. We were able to have quite a few pieces of equipment on display for those reps who had yet to see our boilers in person. After the tour, we headed to Leman's Karting for an exciting team building racing event.
All in all, it was a successful and fun weekend. We hope that our reps are now more educated and confident in promoting Nationwide Boiler to the world!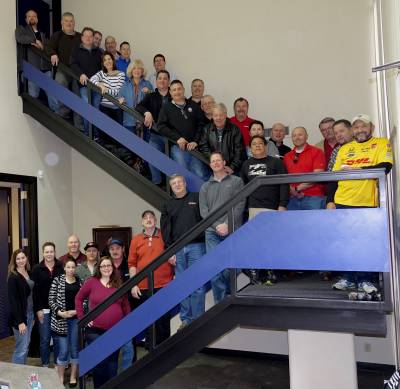 Comments
No comments made yet. Be the first to submit a comment

// MODIFICATION. REMOVES HOME-PAGE-ONLY CONTENT ON PAGES THAT ARE not IN NAVIGATION MENU ?>